HanDBase Forms for Android Now Available

What are HanDBase Forms?

HanDBase, by default, takes the fields you've defined and creates a data entry screen automatically. In many cases this suits the bill just fine- you see a list of fields with the field name to the left or above the place to enter the value, and the screen can scroll vertically to accommodate for larger amounts of fields.

Often times customers want to have full control over the data entry screen. Perhaps rather than a list of fields, you'd like to walk the user through a questionnaire or wizard style of your questions.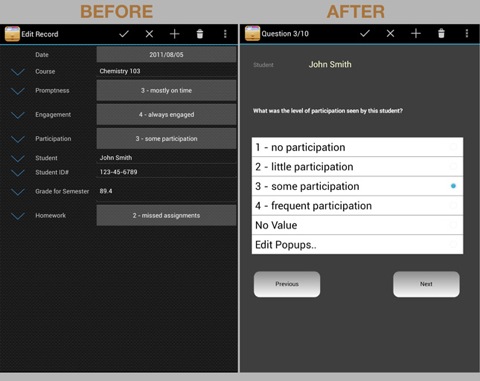 Or perhaps you don't want a big list of fields, but would rather divide your database table into separately grouped tabs.



The HanDBase Forms designer for Android is a drag and drop tool to create these forms. By adding controls such as Text Boxes, Labels, Buttons, Popups, Tabs, etc to the canvas you create the interface exactly as you'd like it.



Add pictures to forms to show a logo or create an entirely graphical interface for your design.


It's like giving your database an extreme makeover!!



Will the Forms I create on other versions of HanDBase work on my Android phone or tablet?

Yes! The forms you designed in other platforms will work on Android as long as they were designed in HanDBase 4.0 or higher on that platform. In some cases some tweaking or modifications will be necessary to account for screen size, but most of the time they will work just like they did on the Palm OS, Windows Mobile, iOS, Windows desktop, etc versions.





Do I need to purchase HanDBase Forms to take advantage of this?

Yes and No. To use forms that have already been designed, you don't need to purchase HanDBase forms- just install the forms file to HanDBase using Desktop Connect mode and they should run just fine.

To actually create and design the forms you do need to purchase a forms designer. There is one available for the Windows Desktop and one available for the Android. You may be surprised to find that designing on Android is actually easier than on the desktop as you are seeing a true representation of exactly how it looks on screen. Plus, we've made great efforts to make the interface easy to use with a finger and the small screen!




How do I purchase the HanDBase Forms for Android Add-on?

We are using in-app purchase to enable the forms designer within HanDBase for Android. So the process is simple- in any database, go to the database properties. You'll see a section for Forms. Tap this section and a buy button will appear. Purchase this via your Google Play account and the feature is immediately unlocked for your use. The cost for this add-on is only USD $4.99.

You can also purchase the Desktop Forms designer if you're using a Windows computer. It's bundled in the HanDBase Professional for Android add-on and the HanDBase Enterprise for Android add-on. These can be purchased here.

(Note: If you have HanDBase 4.0 Professional or Enterprise for any platform, you already have the designer so you can start creating forms right away!)





How can I learn more?

We have created a tutorial demonstrating the creation of a set of forms for a simple database: Click here

The Documentation for this add-on: Click Here



Hear what HanDBase's customers say about the program....


Thank you very much for your prompt help and support....The HandBase program is a pleasure to use and I am very impressed with your company's service and support. -Grahame Connolly

The responsiveness DDH provides is a real godsend in a world of poor tech support. ...your current lead, aggressive development and cross-platform approach, I expect to see HanDBase continue to be THE relational choice for handhelds--we are currently developing all of our mobile applications based on it. -John Fisher

Just had to tell you the 2 e-mails in response to my questions WERE T HE BEST TECHNICAL SUPPORT RESPONSES I EVER HAD!!!!!!!!!!!!! -Henry S. Amdur, MD

I just wanted to thank you for your help. Your response was timely and the best assistance I have ever received from a company. -Robert Gholson

I was starting to think that there is no great database program out there until I downloaded HanDBase. This program works on common sense. It is intuitive to use, logical, easy to manage and stable. You can install the program and jump right into creating a database, entering information and using it instead of spending time trying to work around bugs, system crashes and other problems. This program makes sense, is simple and yet very powerful. What a pleasure, I wish that it was the first program I tried instead of the fourth. The windows companion is also a nice extra. Great job HanDBase!!!! -John Marino

Let me congratulate you on a superb product in HanDBase. I didn't need 30 days, just under 30 minutes, to know I had something special. From woodturning tools and project lists, my DVD collection, my book collection, my photography to creative witting and the mass of info associated with computer engineering, I'm finding HanDBase an invaluable tool. -John Geelan

I have to tell you folks.... it takes an awful lot to impress me, and this impressed me....Not only is HanDBase wonderful, your customer service is too. Nicely done... -Amy Detjen


We have a gallery of over 2000 Free databases you can use...... Click Here: Database Gallery