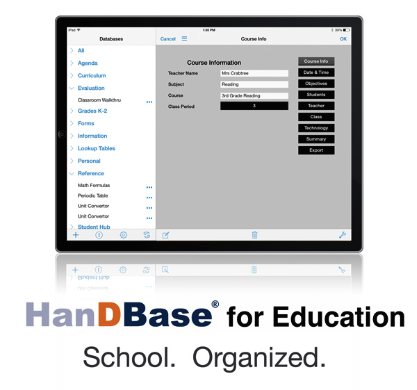 Educators around the United States are choosing HanDBase for students, teachers and administrators in their iPad programs because of the amazing flexibility and power to crease their own databases and forms. When a school system has a specific need for tracking classes, students, coursework, teachers, or other important information, they choose HanDBase because they can easily design their own solution and roll it out to their teachers and students.

HanDBase for Education is a package that includes our HanDBase for iPad App, our custom Forms designer, and over 20 ready to use database designs, designed by educators, that can be put to use immediately in your district.
Design your own databases and create solutions for students, teachers or administrators. It's simple enough for anyone to create a powerful app they can use immediately.

Design your fields. Choose from over 20 field type options including

text

popups

checkboxes

dates/times

signature boxes

camera/photo

maps/gps

calculations

and more

Edit your data- forms are automatically created for you so you can begin using your design immediately.

Filter and Sort your data - you can even create views that you can call up by name to filter and sort settings.

Protect your data- HanDBase includes powerful encryption options, and the ability to password protect certain features of your database from end-users.

Print and Export your data- You can print to an AirPrint capable printer or export and email a PDF or report to your colleagues or students.

Share your designs- easily email your entire database to others.

Design Custom Forms- HanDBase for Education includes our powerful forms designer so you can design custom user interfaces for your databases. Have a paper form you'd like to replace? Design a form that looks just like it!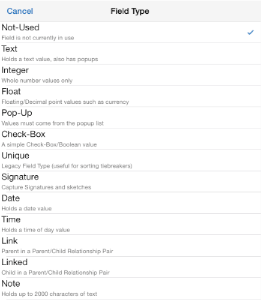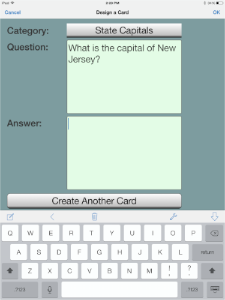 HanDBase for Education includes over 20 sample databases that you can use to start being productive immediately! We had educators design samples for students, teachers, and administrators and bundled these with the app so you can hit the ground running. Here's a sampling: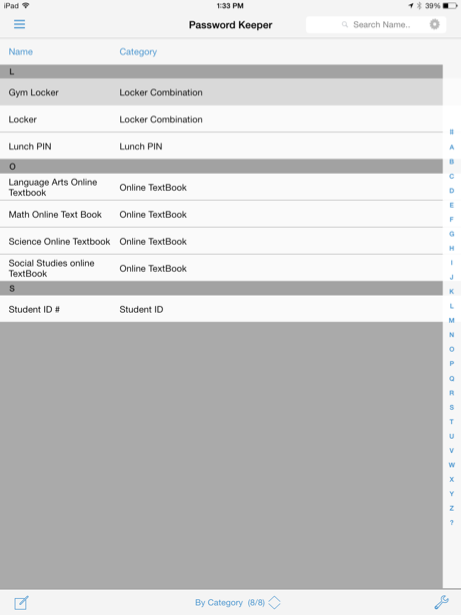 Students:
Class Organizer:
Class Schedule - Period, Room Number, Times, Teacher Name, etc.
Class Info - Teacher Name(s), Email, Web Site, Links to online textbooks, syllabus, etc.
Homework/Projects/Tests - Class, Due Dates, Details, grade weight, scores, etc.
- Passwords: Encrypted database containing locker combination, website logins, bus number, etc.
- Flash Cards: generate and then quiz yourself on terms for vocabulary, spelling, etc.
- Project Organizer - Help students track the details of completing their research, rough draft, edits, works cited, due dates, etc.
- Reference databases - Unit Conversion, Periodic Table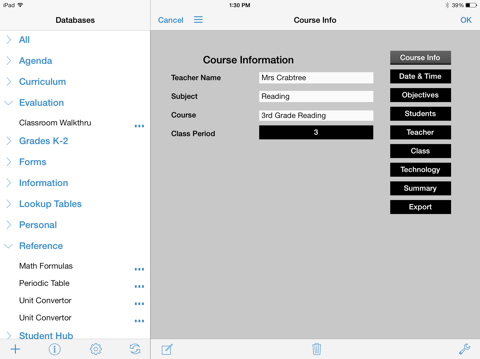 Teachers/Faculty:
- Class List/Student List - Emergency Contact info, special medical concerns, etc.
- Core Curriculum Checklists
- District Phone book/Addresses
- Classroom Walkthroughs (Peer evaluation)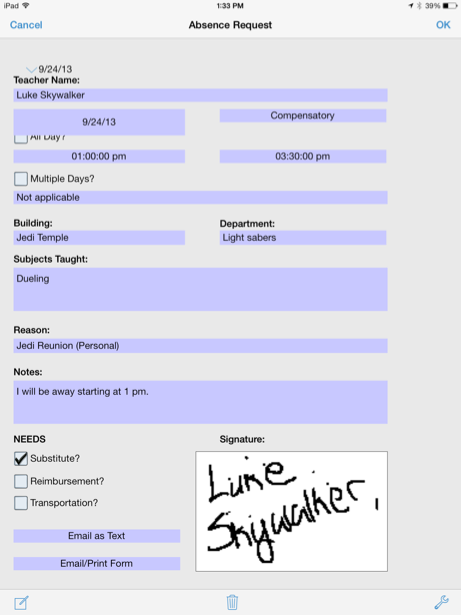 Administrators:
- Master Student Roster
- Teacher/Staff Roster - (Contact Info, Room numbers, etc)
- Emergency Preparedness - Student Info, Emergency Contact, easy way to do head counts and determine who is missing, etc.
- Classroom Walkthroughs - Forms for evaluating teachers
- Discipline/Referral Log

For a full overview of each database included, please click here

Want to...

Synchronize Data

Create Databases

Edit Data

Import/Export
with your
desktop or notebook
computer? We offer optional Desktop programs and conduit add-ons to make this possible: